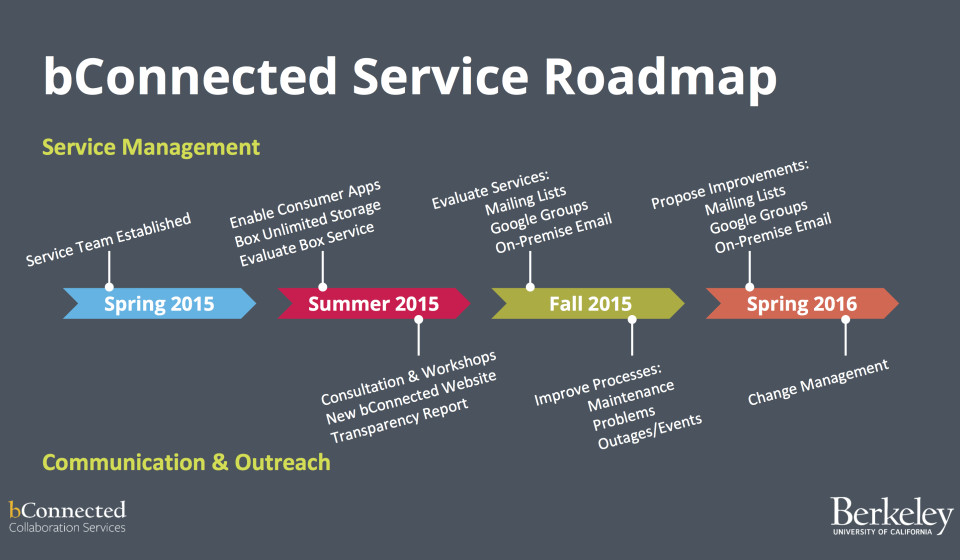 Spring 2015
The bConnected Service team was established with a service manager, solutions architect, change manager, and communications specialist.
Summer 2015
Service Management
The Service Team evaluated and analyzed existing services and technologies, talking to users who use the services and making recommendations. During this time, we:
Communication & Outreach
Began offering Departmental Consultations & Workshops to assist departments in developing their collaboration strategies or supporting their faculty & staff in the adoption of collaboration technologies. We have had 12 departmental engagements thus far.

Relaunched the bConnected website including information on all bConnected services and an updated Transparency Report

Redirected CalMail web pages to

bConnected website
Fall 2015
Service Management
Service & Operations Teams are evaluating Box, Google & related email services and responding to changes to the way email is delivered:  
SPAM Handling -

Google to adopt stricter DMARC policies in 2016

Evaluating replacement options for CalMail Mailing Lists (Mailman)

Converting all remaining CalMail users to Google

All departments have now been migrated

Users will no longer be able to use Calmail SMTP to send mail in 2016

Working in coordination with the CalGroups (centralized groups management) team to plan for the rollout of Google Groups
Communication & Outreach
Improve our Communication & Change Management Process for:

On-going changes to services and new features introduced by Google & Box

Identification & communication about problems with our services

e.g., issues with SPAM handling

Communication during Outages & major service events

e.g., fire in the data center & recent Google Calendar outages
Spring 2016
bConnected Service & Operations Teams will be proposing a series of changes to our mail services:
Proposal for replacing Calmail Mailing Lists

Proposal for rolling out Google Groups

Proposal for changes to on-premise email routing and sending
Interested in learning more? Read the presentation from the One IT: Powering Communication Across Campus Town Hall.